37-year-old General Assembly elects youngest chairman
37-year-old General Assembly elects youngest chairman

Home News Sports Entertainment Finance Stocks Technology Blog Weibo Video Podcast Car Real Estate Games Women Reading Education Constellation Weather SMS Mailbox Navigation Pass Exit

News Center> International News> Text

The 37-year-old General Assembly elected the youngest chairman http://www.sina.com.cn June 10, 2012 04:59 Information Times Ocean News Time: 2012-06-10 Source: Information Times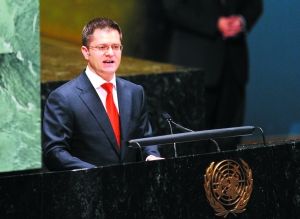 On the 8th, the 66th UN General Assembly elected Serbian Foreign Minister Vuk Jeremic as chairman of the 67th UN General Assembly.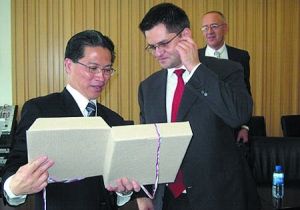 On September 14, 2010, Jeremiah, then Serbian Foreign Minister, attended the Shanghai World Expo and exchanged souvenirs with Zhou Hanmin, deputy director of the Shanghai World Expo Bureau.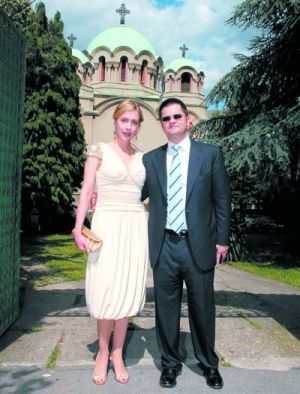 Jeremic's wife, Natasha Jeremic, is a journalist and host of Serbian Radio and Television. According to Xinhua News Agency, the 66th UN General Assembly held a plenary meeting on the 8th to secretly vote for the 67th UN General Assembly chairman. Serbian Foreign Minister Vuk Jeremic, 37, defeated Lithuanian opponents and was elected. One of the chairmen of the conference. The 66th UN General Assembly's youngest chairman held a plenary meeting at the United Nations Headquarters in New York, USA on the 8th to elect a new UN General Assembly by secret ballot. Of the 185 valid votes, Jeremić won 99 votes and was elected by a simple majority. Jeremiah is scheduled to take office at the opening of the 67th Session of the General Assembly on September 18 for a term of 12 months. The current President of the General Assembly, Nasir Abdul-Aziz Nasser of Qatar, congratulates Jeremić on his election and looks forward to his rich experience accumulated in multilateral and international affairs after taking up his new post. Jeremiah was born in Belgrade in 1975 and was nicknamed "sponge baby" for his square chin and smile. He is about to turn 37 and is believed to be one of the youngest General Assembly chairmen in the history of the United Nations. In his speech in favor of the peaceful settlement of the dispute, Jeremić gave the result as a gift to the Serbian people. "A painful era is now over," he said. "Nearly 20 years after being forgotten by this chamber, today our country can once again proudly stand before the world." "We are a small developing country, Does not belong to any military alliance or political alliance. Therefore, it is a great honor to have the trust of so many countries around the world to chair the main consultation, decision-making and representative body of the United Nations. "Jeremić suggested that" the international peace settlement or mediation "Disputes or dilemmas" as the theme of the high-level meeting at the opening of the new General Assembly. Since serving as the youngest foreign minister in the history of Serbia five years ago, Jeremić has frequently appeared on the podium of the United Nations, firmly stated the position of the Serbian government, and opposed Kosovo's self-declared "independence" in 2008. Serbia's predecessor, the Federal Republic of Yugoslavia, suffered the trauma of the Yugoslav civil war, the Bosnia and Herzegovina war, and the Kosovo war, and suffered international isolation. In recent years, Serbia has pursued a policy of good-neighbourliness and reconciliation, seeking to integrate into Europe. In March this year, Serbia became a candidate for membership in the European Union. A 37-year-old Jeremić was born in a prominent family in Belgrade. His father was the director of a large state-owned oil company, and his mother was a descendant of an influential political family in Yugoslavia. Jeremić received a secondary education in Belgrade, then studied at the University of Cambridge, England, and obtained a degree in theoretical physics. He also attended the Kennedy School of Government at Harvard University and earned a master's degree in public administration. Jeremiah is fluent in English and German, loves tennis, and is currently the president of the Serbian Tennis Federation. Jeremić entered politics 10 years ago, initially serving as an adviser to the Minister of Telecommunications of the Federal Republic of Yugoslavia, and in 2003 he joined the Serbian Ministry of Defence as a special envoy for Euro-Atlantic affairs; Since May 2007 he has been Minister of Foreign Affairs of the Republic of Serbia. After serving as Foreign Minister, Jeremić's biggest challenge is to prevent Kosovo from gaining independence. After Kosovo declared independence in 2008, his first task was to persuade the international community not to recognize Kosovo's independent status. To this end, he traveled around the country, covering almost every corner of the world. For his enthusiasm and hard work for this, the British "Economist" magazine once used "he is like using steroids" to describe his state in his diplomatic activities. Wang Chang has been to the Shanghai World Expo Yeremic during the Beijing Olympics and has visited China many times. He visited China in September 2007, attended the Beijing Olympics in 2008, accompanied the Serbian President to visit China in August 2009, came to China to attend the Shanghai World Expo in April 2010, and came to China to attend the Ninth China-Serbia Mixed Economic and Trade Commission in October 2011. regular meeting. When he came to China to attend the ninth regular meeting of the China-Serbia Economic and Trade Commission last year, Jeremić said in an interview in Beijing: "If a word is used to describe the current relationship between Serbia and China, the word should be excellent." He said that in the hearts of the Serbian people, China is a true friend of Serbia. Jeremić also told reporters that since his first visit to China in 2007 as a foreign minister, he has come to China every year and visited the Shanghai World Expo in 2010. Even his honeymoon with his newlywed wife was spent in Hong Kong, and he has a great affinity with China. deep. Wang Sang's wife also came from a political family. The TV host Jeremić's wife Natasha Jeremić is a reporter and host of Serbian Radio and Television. Natasha Jeremić's father is a very rich real estate agent in Serbia. Similar to the Jeremić family, the Natasha Jeremić family was also the most politically influential Bosnian family during the Yugoslavia. The two families controlled most important positions of the Socialist Party of the Republic of Bosnia and Herzegovina. Jiang An shared: Welcome to comment, I want to comment on Weibo recommendation | Today Weibo hot news pictures Weibo blog video related hot words search message board Tel: 4006900000 Save the full text browse Large, medium and small print Close Return to the home page Picture download Sina public welfare [News 】 The new human love rule is passed by Yijian Zheng next year. [Greeting card] Mobile phone greeting card to send love to express a large collection of humorous joke [Wishing] Farewell to the era of secret love homemade greeting card pure girl [Theme] Beauty handsome car famous non-mainstream romantic love theme library [picture bell] dynamic Funny pictures I love you before the end of life [Happy letter] Mobile app downloading the fate of the same name and signature [Mobile phone] Fashion signature with wood and love greeting card Wang Taohua Wishing wall flower [Game] Sina Wireless Paradise happy fruit machine Tom's love letter staying behind How the girl tragedy can avoid the "election" problem of poor students, mineral mining, and environmental pollution. China will raise the threshold of the blue sky. Resource tax reform should not impact people's livelihood. Jiyi Ecological Park Tibetan Oil Refinery Beichuan Old County is fully open to the public. 10% pool nationwide Urea over-standard luxury stores are suspected of abusing employees. Donkey friends fell to the cliff to rescue the rejected workers. The hollow home behind the army was filled with money. The 14-year-old 20,000 yuan braille library is waiting for readers to open the 2012 Beijing Auto Show in April. "City" · Recruiting partners · New business post is more favorable for interactive activities Hotspot recommendation · Love delivery, warm leukemia girl @ 鲁 若 晴 · Wechat in the Weibo era Tucao You will be out of play Use Weibo Desktop! · All-star live video broadcasts at any time. · The better-used corporate microblog has arrived for free upgrade immediately. · The country's first urban management theme micro-movie "My Urban Management Girlfriend" · [Finance] Stock market query · [Finance] Finance calculator · [ Technology] Digital Product Library · [Video] Hottest Movies and TV Movies · [Tourism] Attraction of Domestic and Foreign Attractions · [Parenting] Parenting Practical Toolkit · [Auto] Model Query · [Women] Cosmetic Product Library · [Constellation] Constellation Fortune Search · [Entertainment] Video Enquiry · [Entertainment] TV Program List · [Education] Colleges and Universities Enquiry Sina Profile ┊ About Sina ┊ Advertising Services ┊ Contact Us ┊ Recruitment Information ┊ Website Attorney ┊ SINA English ┊ Member Registration ┊ Product Q & A ┊ Copyright © 1996 -2012 SINA Corporation, All Rights Reserved.